A Guide To Wild Toileting And Outdoor Hygiene
---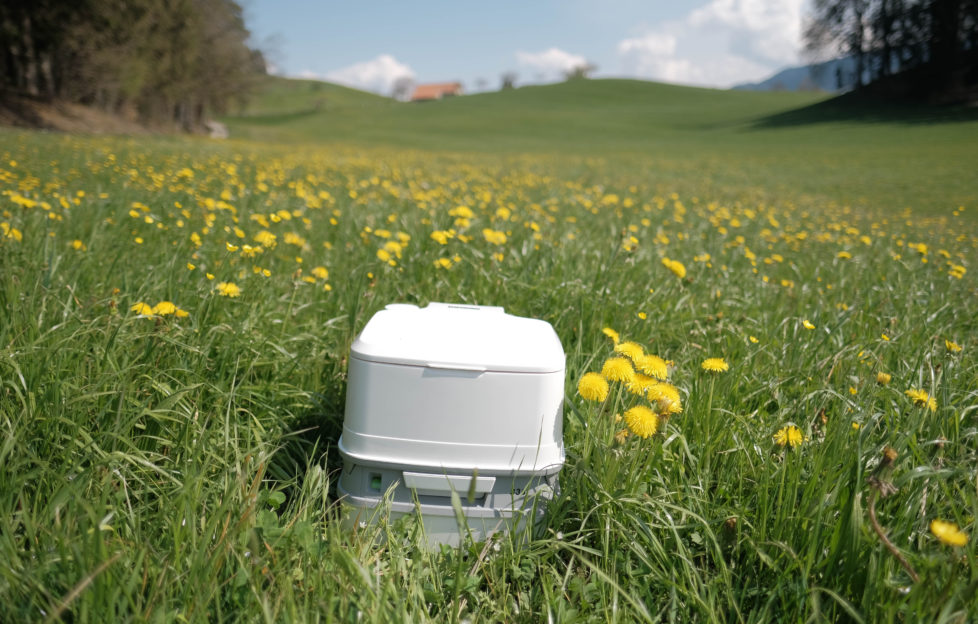 Credit: Shutterstock
Touring without a toilet or shower? Don't get yourself in a lather
If the washrooms at the caravan site you're planning to visit aren't open due to the Covid-19 restrictions, don't despair, we have plenty of ideas to keep you clean and comfortable.
With the news that many campsites will open in July without washing or toilet facilities, those of us who don't have built-in washrooms will need to get creative.
Usually, the shower and toilet block are one of the main selling points for a caravan site and, if you're like me, you check the facilities' reviews thoroughly when choosing where to stay.
I don't need fancy, just clean with plenty of hot water included in the fee.
On any Scottish camping trip, even in summer, warming up in a hot shower is one luxury most folk are reluctant to give up.  That said, my Bongo campervan only has a small sink and a portable toilet, yet my favourite tours have all been to more remote areas, where showers have been few and far between.
Among my most precious memories are washing my hair in a lake in Snowdonia, brushing my teeth by a stream with a view of the Matterhorn and an entire tour of the Outer Hebrides where the sea provided our daily bath with only a couple of real showers.
Surely, getting back to nature and living more simply is what camping is all about!
As well as using natural water supplies, I always pack a generous supply of cleansing wipes, mouthwash and dry shampoo so we don't end up too whiffy.
However, if you're not keen on roughing it to that extent there are options.
I had already noticed recently a rise in toilet tents at campsites, even at those with facilities. I guess the walk to the toilet block can be a bit of a trek in the night and your own private loo has clear benefits.
I had vaguely planned to get one myself to put the portable toilet in for a bit more privacy – we currently stash it in a drawer in the van and have to order the other person to leave if we want to use it!
A quick search on the internet brings up plenty of options at reasonable prices – a simple solution is a Kampa Loo Loo Tent and Camping Khazi, which is currently available for less than £60.
There's a variety of portable showers available – used most commonly for rinsing your dog or bike down – that, combined with a privacy tent, could easily create a mobile shower.
Even the cheapest option is rechargeable and pumps water from a bucket – either your own or supplied – and provides a decent power shower experience.
They tend to be fairly chilly, however, as the solar heated ones won't be very effective in the UK and a hot water system is an expensive investment. So, a dip in the sea may be just as good and much cheaper.
Wild toileting
If you don't have access to a toilet or washroom, there are some guidelines to follow for everyone's benefit:
·         Avoid causing pollution by urinating at least 30 metres away from open water/rivers/streams
·         Bury solid waste as far as possible from open water/rivers/streams and buildings
·         Used toilet paper should be taken with you and disposed of appropriately
·         Do not use soap or shampoo in natural water sources.
·         Dispose of wipes in a bin.
You should always follow the advice of the Scottish Outdoor Access Code – www.outdooraccess-scotland.scot/act-and-access-code
Outdoors and adventure journalist Fiona Russell gives her top tips for wild hygiene
The aim, when I know I am not going to have easy access to a shower, is to avoid getting too whiffy in the first place.
I recommend wearing baselayers and socks that are made of natural fibres, such as merino or yak wool. If you have sensitive skin, choose wool and synthetic mix. Natural products do not end up as smelly as full-on synthetics even when worn for extended periods.
Buy a good deodorant and take wet wipes for quick "wipe downs". It's a good idea to keep on top of areas such as armpits with a quick wipe down.
Be sparing with your wet wipes because I do not think many are environmentally friendly.
An alternative is an old-fashioned flannel wash. You could use a bucket or bowl of water somewhere discrete, such as behind your campervan or tent. Don't allow soap products to get into natural waterways though, so even in a large loch you should try to rely on a flannel only.
Look for environmentally safe, natural soaps as even a biodegradable soap will damage the natural environment.
A loch or river is a great place for a quick dunk. Keep your underwear on for decency – or wear a swimming costume – unless you know you will not be spotted by others. Most people are fine about these things but some will be offended.
I also have a solar shower for my campervan. It's a basic, portable style but it is useful in situations where you can't get to a shower on a campsite.
I think I also tend to lower my standards of hygiene, if it's OK to admit this. If I am being active outdoors for just  few days I don't worry too much about a shower. It is easier if I'm on my own but even with my husband or a friend, we are generally in the same situation and I rarely worry about getting a daily shower. I just change my underwear and use a good deodorant!
Fiona Russell, an outdoors and adventure journalist based in Scotland www.fionaoutdoors.co.uk
Which camp sites will be fully equipped with facilities after lockdown? (CLICK HERE)