Loch Lomond & The Trossachs – Aberfoyle to Callander
---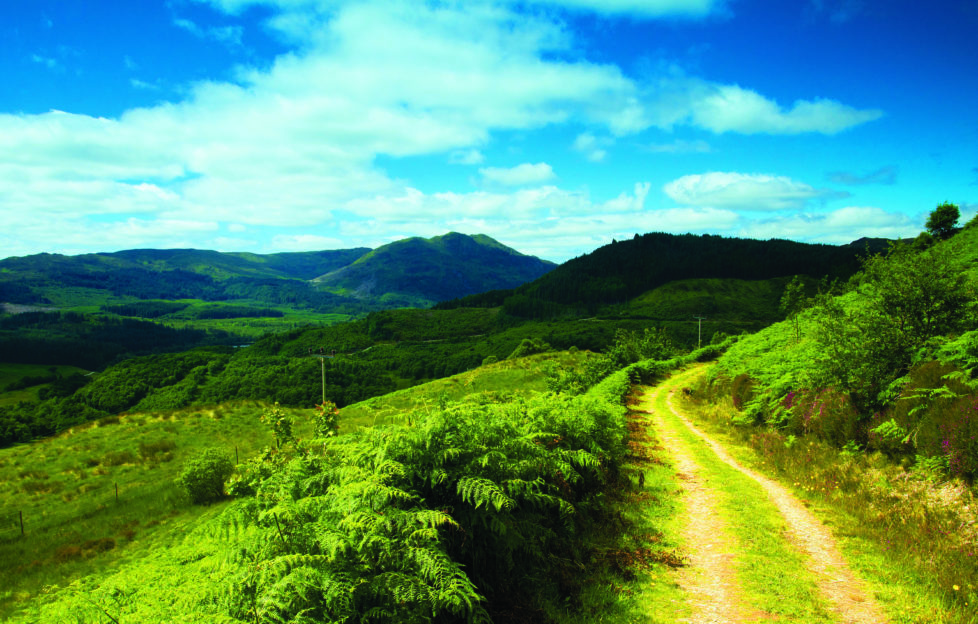 Walking through The Great Trossachs Forest, Glen Finglas Estate, Loch Lomond and the Trossachs National Park, Stirlingshire
There may be only 24km (15 miles) between Aberfoyle and Callander in the Loch Lomond & The Trossachs National Park but this Great Scottish Journey includes the Duke's Pass…
This stretch climbs sharply from Aberfoyle and winds through the beautiful landscape of the Queen Elizabeth Forest Park down to Loch Achray, itself overlooked by the pointed peak of Ben A'an.
The pass was originally built in the 19th century by the Duke of Montrose to improve access to his estate. It became popular with Victorian tourists after Sir Walter Scott's epic poem The Lady of the Lake put The Trossachs on the map.
Beyond Loch Achray the A821 continues for several miles alongside Loch Venachar and the Great Trossachs Forest.
Upon reaching the small settlement of Kilmahog a short diversion leads to the spectacular Falls of Leny after which the A84 leads into Callander.
This lively and bustling town stands at the edge of the Highlands and is the eastern gateway to the Loch Lomond and the Trossachs National Park. It has been an important settlement ever since the Romans established a fort here.
Fact File:
Aberfoyle developed during the 19th century through slate quarrying and oak charcoal production. When the railway arrived in 1882 it was the third biggest supplier of slate in Scotland.
The highest point of the Duke's Pass is 250m (823 feet) above sea level. Its steep gradients offer a challenging route for cyclists.
Loch Venachar is approximately 6km (4 miles) long and means the horn-shaped loch.
Samson's Putting Stone sits above Loch Venachar and is said to have been thrown from the summit of Ben Ledi by the giant Samson.
Striking through the heart of The Great Trossachs Forest is The Great Trossachs Path, a superb 48km (30-mile) trail linking Callander and Inversnaid.