NEC Motorhome & Caravan Show
---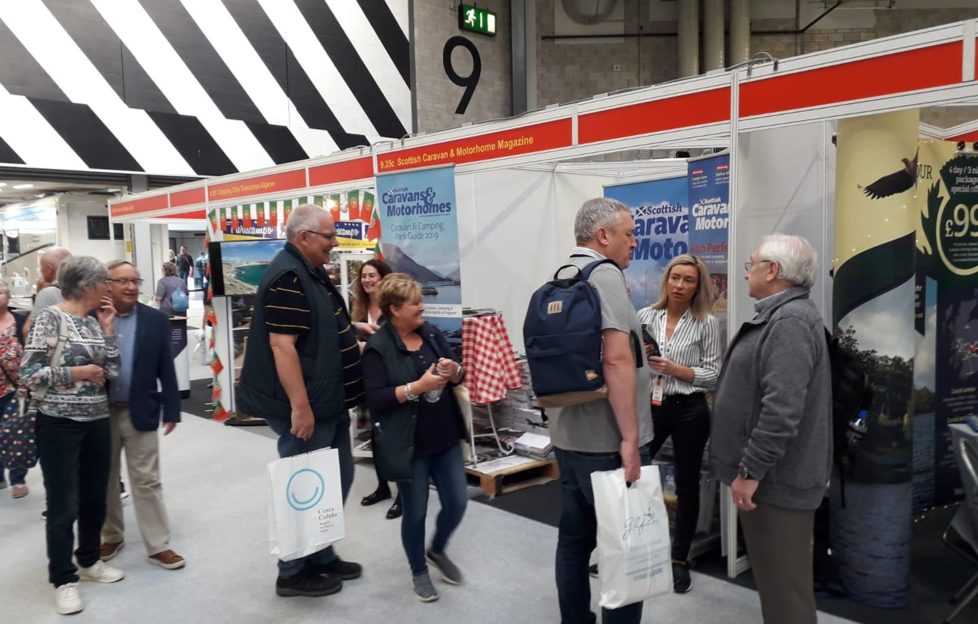 Editor, Garry, enjoyed a visit to the NEC Motorhome & Caravan Show in Birmingham last weekend…
190,000 square metres (more than 2 million square feet), thousands of caravans and motorhomes, an equal number of enthusiasts and a sense of good will and solidarity that can't be measured. That sums up past week's Caravan and Motorhome show in Birmingham's National Exhibition Centre.
Scottish Caravans and Motorhomes were proud to be part of what was a magnificent experience, and our stall was ideally placed in Hall 9 to greet a steady stream of caravan and motorhome devotees.
We were proud to fly the Scottish flag, and as a means of promoting the magazine, we couldn't have been in a better place.
"We distributed more than 4000 copies of the current Scottish Caravans and Motorhomes magazine," says advertising manager Ger McGuigan, "as well as a huge number of our 2019 Caravan and Camping Park Guide. As a means of promoting both magazines, we couldn't have wished for a better result."
The magazine's editor, Garry Fraser, attended two days of the event and was pleasantly surprises how many folk were interested, not only in the magazine, but in Scotland itself.
"At times it felt like we were active ambassadors for Scotland," he says, "for as well as promoting our publications, we found we were highlighting our great culture and attractions. The North Coast 500 was a particularly favourite talking point. Many folk were interested in the best places to take their caravan or motorhome and we were only too happy to oblige.
"Quite a lot expressed concern about one our not-so-welcome attractions – the dreaded midge! But we managed to put any fears to rest!"
Garry – and another load of magazines for free distribution – will be heading to Aberdeen's P&J Live this weekend. Be sure to catch him, and the rest of the Scottish Caravans and Motorhomes team, there on stand S35.