Me And My Campervan: Laurie Campbell
---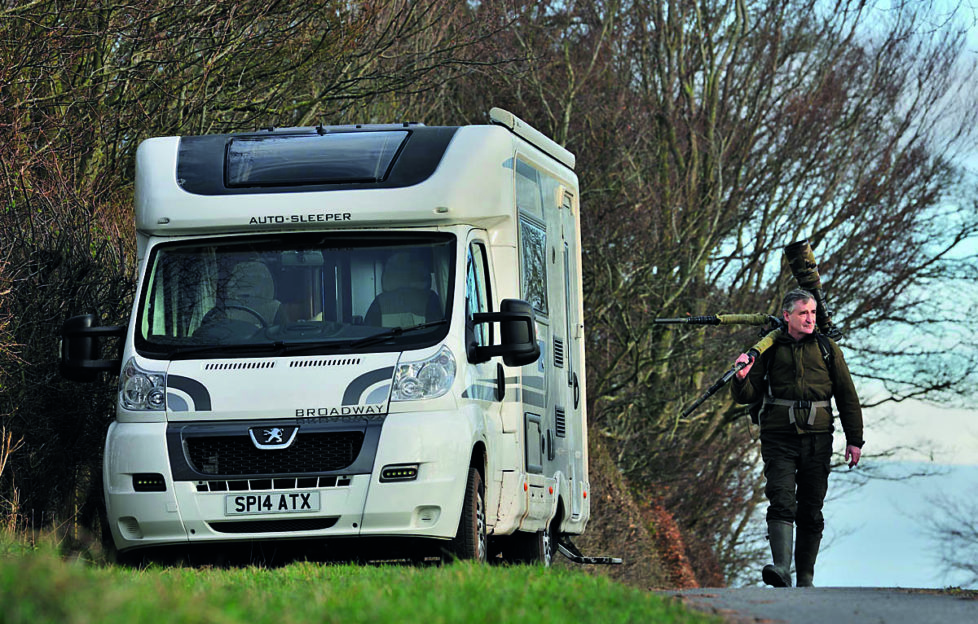 I need my campervan to do my job with comfort. Credit: L. Campbell.
Nature photographer Laurie Campbell finds his essential!
Two years ago, and after months of research and soul searching, I finally traded-in my aging motorhome for a new model. By far the most difficult part of the decision was, of course, parting with a life-changing amount of money, but there seemed no other way of obtaining a reliable vehicle that was going to last me at least another decade. The overriding consideration, based upon over 30 years' experience of owning these vehicles, was that I regard having access to one indispensable for the way I like to work as a professional photographer covering the whole of Scotland.
Amongst the many benefits, they allow me to travel at very short notice, usually in response to changing weather conditions, and they can carry lots of kit. The chore of packing for trips is much easier because I have every day, non-valuable items such as outdoor clothing, maps, field guides, tools and a selection of hide-making materials permanently in stored in the vehicle.
Looking back over my career as a nature photographer, I realised long ago that I needed to find a solution to the problem of obtaining accommodation whilst working in the field and to minimise over-heads.
I settled for a Morris Minor saloon and a tent I'd purchased from Woolworths as a teenager. On short winter trips, I slept in the car having removed the back of the rear seats so that I could lie with my feet in the boot. For extended trips, I'd camp somewhere and pitch my tent complete with a heavy-duty flysheet I'd fashioned from an old tarpaulin.
Once anchored with rocks, my shelter withstood the worst of weather whilst I lay cocooned inside with a paraffin tilly lamp and a good book for company. This must seem quite a basic existence, but for someone who had just quit their indoor, nine-to-five day job in exchange for the life of a nature photographer, this was bliss.
Above all, there seemed something inherently right about being outdoors and living in the same environment as the subjects I aimed to photograph. It's a belief that I've held to this day and the main reason why I still prefer to camp. While being respectful to landowners, I can be very choosy when it comes to deciding where to park but in the right location, I've witnessed and photographed some amazing events in nature which often began by my simply looking out of the window.
Having established that I might spend much of my working life this way, I began to look at camper vans as a means of a less labour-intensive way of providing accommodation in the field. With a limited budget, I purchased a VW Type 2 camper at an auction.
Although these vehicles have achieved a certain cult status, they also have serious drawbacks such as poor fuel economy, but the suspension was superb and made for a very smooth ride over bumpy forest tracks. After the VW failed its last MOT, I splashed out on the first of a series of coach-built motorhomes that I have used ever since. I currently drive a Peugeot Autosleeper Broadway.
The features I look for nowadays in a motorhome are quite specific and for winter work, for example, there are advantages to having a well-insulated vehicle with double-glazed windows in the living area to avoid problems with condensation, and a water tank inside rather than slung to the underside, where it is more prone to freezing.
Dual battery systems, where only the 'leisure' one is used when stationary, are indispensable for charging camera batteries and running laptops. Having these luxuries make long hours outdoors in poor weather much less of an issue if you know that at the end of the day you can return to a living space with clothes-drying and tea-making facilities and the prospect of a hot shower. But then again, I do sometimes miss my nights under canvas!