Linn of Dee to Aberdeen
---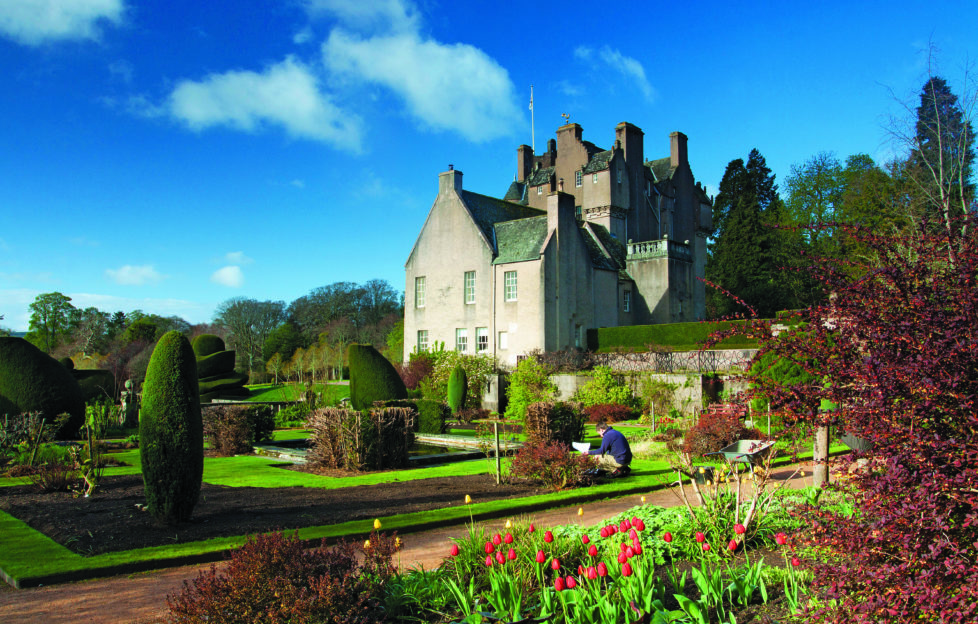 Crathes Castle and Gardens, Banchory, Aberdeenshire
The 105km (65 miles) from Linn of Dee, near Braemar, to Aberdeen highlights the diversity of the Scottish landscape…
Starting in the shadow of the enormous Cairngorm mountains the route – much of it along the A93 – travels through the gorgeous open countryside before reaching the splendour of Aberdeen. The journey also follows the silvery line of the mighty River Dee.
Linn of Dee makes for a spectacular start, after which a lovely section of minor road leads into the bustling village of Braemar. From here the A93 heads through Royal Deeside, past Braemar Castle and through Ballater to Crathie, home to the historic Crathie Kirk and Balmoral Castle.
The landscape is never less than enthralling, with the Glen Tanar and Muir of Dinnet National Nature Reserves offering the potential to spot a huge array of wildlife. Aboyne and Banchory are great places for a pit stop while Crathes Castle is one of the many visitor attractions en route.
The trip culminates at Aberdeen, Scotland's third-largest city. Here you'll find some sumptuous architecture – such as the remarkable Marischal College – and a marvellous beach.
Fact File
In 1895 and 1982, the temperature in Braemar dropped to a teeth-chattering -27.2°C.
Queen Victoria and Prince Albert purchased Balmoral Castle in 1852 before redesigning much of the castle and grounds.
Glen Tanar National Nature Reserve encompasses mountain, moorland, forest and farmland. Its wildlife includes golden eagle, Scottish crossbill, red deer and red squirrels.
Banchory is thought to translate from the Gaelic Beannchraigh, meaning the Bends, and relates to the winding course of the River Dee near the village.
Aberdeen granite was used in the construction of Bell Rock Lighthouse and Waterloo Bridge in London.