Call For Harmony On Scottish Roads
---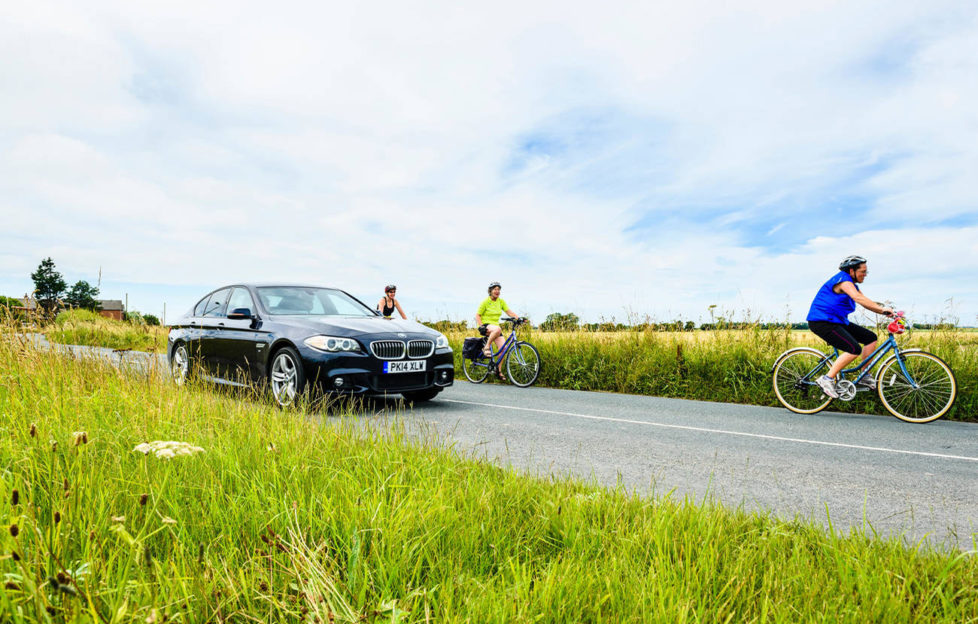 Pic Credit: ALAMY
As a cyclist and a driver, Fiona Russell asks for respect between four-wheelers and two-wheelers
Cycling the famously long, steep and winding road of the Bealach na Ba in north-west Scotland, I am aware of motorists behind me. I wait for the usual frustrated revving and irritated beeping, but instead it's all polite queuing and careful over-taking.
It happens again on the singletrack road through the fabulously scenic glen of Torridon, which is part of the North Coast 500 route.
Cars, vans campervans and motorhomes wait patiently in passing places for me to cycle by – and some drivers even wave and smile at my slower pace.
Again, I enjoy more courteous driving on the "holiday roads" of southern Scotland. This time I am cycling on the South West Coastal 300 route and the motorists seem happy enough to pootle along behind me.
When I can, I pull into a passing place to let them by, but apart from that they are kind and generous with their time.
It makes me wonder why cycling on the UK's main roads can't be like this all the time.
Instead, when riding my bike closer to my home near Glasgow and on the city roads, I am frequently upset by the obvious anger and resentment of many motorists.
Drivers take risks with my life – and others – as they overtake dangerously. An increasing number seem to believe that overtaking a cyclist with traffic still coming in the other direction is safe and sensible.
I often hear the annoyed sound of horns and on numerous occasions people shout from their vehicle windows about my alleged selfishness for holding up the traffic.
I am a regular, too, on radio show talk-ins on the topic of cycling on the roads. Drivers seem to be hugely offended that cyclists "hold us up" and "clog up our roads".
Yet as well as being a cyclist, I am also a driver, which means I also observe the behaviour of cyclists.
It saddens me that some riders behave illegally or inappropriately on the roads, too. They do not help the them-versus-us mentality and only serve to antagonise motorists further.
What I can't fathom is: Why we can't share the roads with more harmony?
Thinking back to my experiences of cycling on the "tourist" roads in the north and south of Scotland, as well as on the west coast islands, I wonder if there are lessons we can learn.
"Cyclists slow us down" is a common driver frustration.  Yet waiting for a safe place to pass a cyclist will usually only add a minute or two to the overall journey time.
I guess that on the roads that run through the popular tourist destinations, many drivers are holidaymakers. That means they have more time to spare and they will be content to wait in passing spaces while enjoying the surrounding countryside.
I know that when I take my campervan away for the weekend or a week's holiday, I feel more relaxed and I enjoy a slower pace on the roads.
Being away from busy roads in and near the cities and towns seems to subconsciously lighten my foot on the accelerator.
I have found, too, that as a cyclist, the nicest drivers are those in "holiday vehicles" such as motorhomes, campervans and drivers towing caravans.
So, why don't we take inspiration from this atmosphere and emotion in everyday life?
Perhaps as daily drivers we could set off a little earlier to make sure we have enough time to sit behind a cyclist or two on our journeys. Why not set a more relaxed frame of mind by listening to calming music or popping an audio book on the sound system of a car?
Maybe workplaces and bosses could be more tolerant of drivers arriving a few minutes late because they took the time to give cyclists space.
Let's think as well as about the accusation that "cyclists clog up our roads". Do they really? Isn't it a good thing that people are keeping fit and healthy by riding their bike?
Cycling is also better for the environment because it leaves a much smaller carbon footprint. In addition, the more cyclists there are the fewer cars there are to "clog up" our roads and cities.
A kinder thought for motorists is that cyclists are doing a lot of good – and maybe they should be treated with more respect.
I'd also like to encourage cyclists to think more "holiday" than "work day".
When in holiday mode, we are more likely to take our time to reach a destination and to look around and enjoy the landscapes.
The chances are we will seek out quieter routes and traffic-free options.
Trying to break a speed record, jumping traffic lights, dodging in and out of queues of motorists and generally behaving selfishly is not going to create more equanimity with drivers.
I'd love to see Scotland as a leader in driver-cyclist road happiness.