The Galloway Coast – Glencaple to Kirkcudbrig
---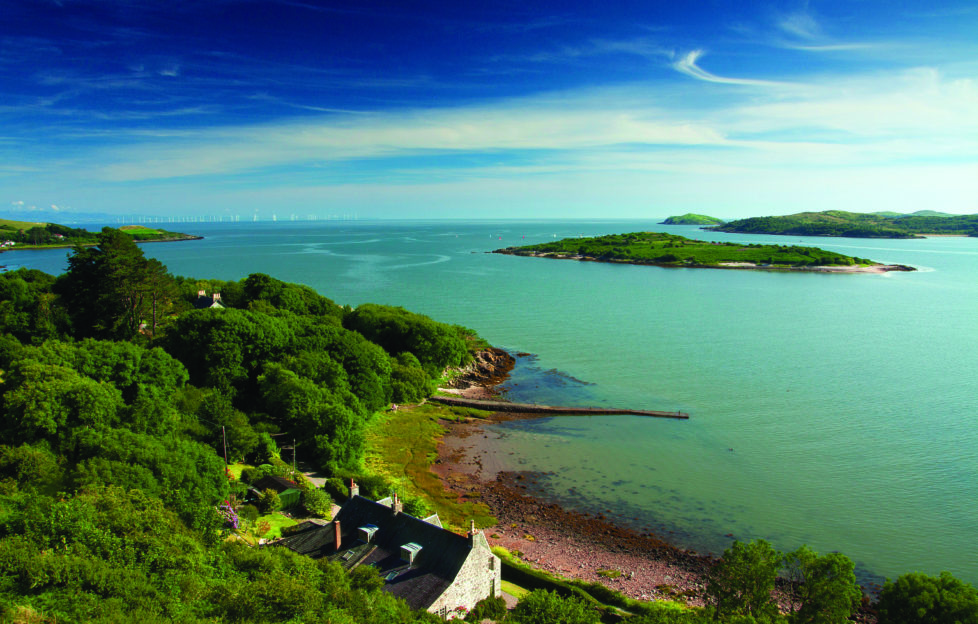 Rockcliffe, Rough Island, Castle Point and the Solway Firth from Mote of Mark, Rockcliffe, Dumfries and Galloway
Discover Galloway, the 3rd largest region in Scotland but one of the most sparsely populated areas in Europe
When travelling along the spectacular 55 miles of coastline between Glencaple, near Dumfries, and Kirkcudbright there is a real sense of space and definitely room to breathe. Here the traveller has time to explore and drink in the region's rich history, scenery and wildlife.
Dumfries has strong links with both Robert the Bruce and Robert Burns while lovely villages such as New Abbey, Southerness and Dundrennan are home to some historic buildings. The likes of Sandyhills, Rockcliffe, Kippford and Balcary offer a wonderful range of beach and cliff-top walking with Criffel, Screel and the Mote of Mark all bestowing magnificent vantage points to gaze along the coast.
Kirkcudbright is perhaps the most attractive settlement along the coast. The scenic quality of the town, the surrounding landscape and the quality of light began to attract artists during the 19th and 20th centuries. It is a feature that still exists today as Kirkcudbright is known as The Artists Town, with many artists living and exhibiting in the town.
Fact File:
The origins of Dumfries stretch back to 1186 when it was founded as a Royal Burgh. It then grew swiftly as a market town and port.
Sweetheart Abbey, which dominates New Abbey, was built in the memory of John Balliol, the husband of Lady Devorgilla, one of the most powerful women of her time.
John Paul Jones, considered by many to be the father of the American Navy, was born at Arbigland near Southerness in 1747.
The Mote of Mark, above Rockcliffe, was once a defended hilltop and, supposedly, a court of a mighty Dark Age Chieftain.
Screel was once used by custom officers as a vantage point to catch smugglers. Illegal tobacco, tea and silk would arrive regularly from the Isle of Man.