One Facebook Group, Lots Of Community Spirit!
---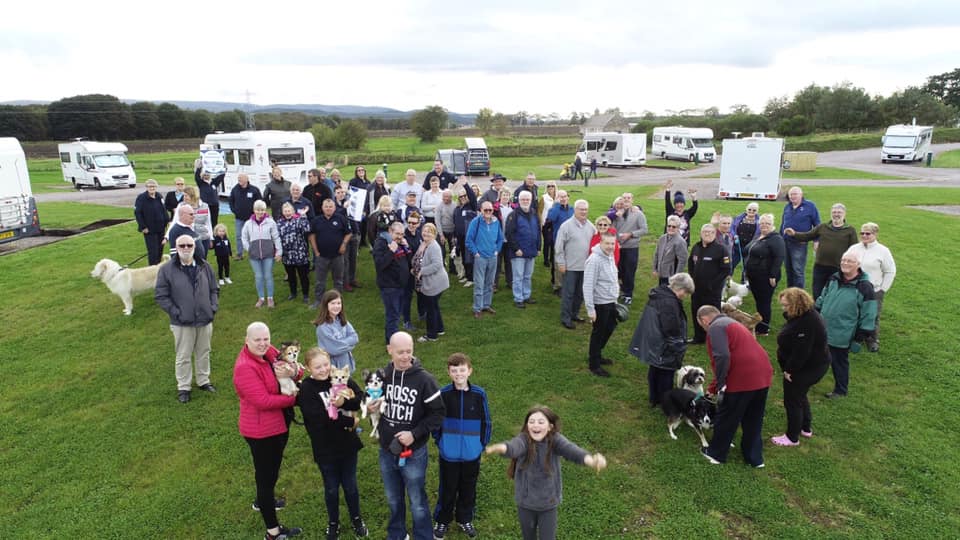 Discover 'Scottish Motorhomers and Caravanners', the Facebook group championing charity, togetherness and all things touring…
Alistair Campbell is the founder of Scottish Motorhomers and Caravanners, an online group and Facebook page with more than 10,000 members – all of whom benefit from discounts, deals and expert advice.
And with many holidaymakers focusing on a staycation at a holiday park or campsite for their next break, this group could be just what they need to make their touring dreams a reality.
From a spark of an idea to a community almost the same size as Montrose, Alistair started the group back in 2016 with an aim to unite and engage members of Scotland's large caravanning community with one another, as well as directly with businesses in the sector.
"We hired a motorhome for a weekend a few years back and knew nothing about it beforehand, but really enjoyed it. We have a young baby so we decided just to buy a motorhome and then soon we were like, where can we go and what can we do? Then the idea came, why don't we set up a Facebook group for this," Alistair says.
As easy as that, the group was created and quickly grew into the behemoth it is today. Founded with the intention of connecting like-minded caravan lovers, it also set out to create a network of dealerships, parks, and tourist attractions across Scotland offering exclusive discounts for their members.
Alistair has built up the site with support from an impressive array of businesses from the industry, "We now have over 41 campsites involved. Members make a donation of £10 and in return they get a card which you can show at campsites along with some local attractions to receive discounts.
"It's great for businesses as it directs people towards them and the traffic on our website is great, during high season we get around 300-400 people a day visiting the site."
The discounts and deals are an obvious draw, but Alistair also recognises the pivotal role that the members themselves play in the value of the group, "Our Facebook group is very active and the support offered there is an asset to the membership.
"For anyone with a caravan that might have an issue when out and about, whether it's about a campsite or mechanics or anything, then if they ask on the Facebook group they usually get an answer straight away.
"It might be someone has had a similar issue and can help, but also we have members that work for dealerships like Perthshire Caravans and other people that are experts. Unlike helplines and customer service lines, the Facebook group is pretty active 24/7 so it's a great supportive community."
Perhaps the most important part of the Scottish Motorhomers And Caravanners group is the charitable aspect. The group is entirely not for profit and the £10 members pay in exchange for their membership cards is donated to the Les Hoey DreamMaker Foundation.
As a charity that was founded locally to him, it is one that Alistair holds dear to his heart, "The Les Hoey DreamMaker foundation is a charity for terminally sick kids in Lanarkshire but they cover all of Scotland now. Similar to the Make A Wish foundation, it's for kids that have a wish like maybe go to concert or meet a celebrity."
As a local charity, it is fantastic for the group to see exactly where their money is going. Money gathered from memberships also goes to paying for two caravans at Craig Tara in Ayr.
The caravans provide much needed respite holidays for sick kids and their families throughout the year. Craig Tara is a Haven holiday park, ideal for families, set right on the beach and packed with on-site activities.
All Les Hoey families that visit the park and use the caravans receive free entertainment passes and can enjoy everything from crazy golf to a flume-filled pool complex.
Alistair Campbell got involved with the charity by way of funny coincidence, "I used to work on trains, and one day I happened to meet the main charity organiser for Les Hoey Dream Maker on the train, dressed as superman!
"We got speaking and he was telling me about how the charity works and what it does and I thought it was a really good fit for our business. In the first year, we raised about £500 and by the second year, it had already jumped to £3000.
"We were keen to support a smaller, local charity like this as it is great to be able to see where the money is going and the difference it is making."
Unfortunately, at the time of speaking to Alistair Campbell, the donation figure was not looking so promising. At the height of the Covid-19 pandemic, caravan holidays were either a distant memory or a far off future dream, and membership donations had all but dried up.
"We would normally have a good balance to give to the charity, we were hoping to raise £6000 to pay for the caravans outright, but we have nothing basically.
"The beginning of March when the season would have started is when our membership cards become active and donations tend to start coming in. There were a few to begin with, but as lockdown set in they tailed off."
The Facebook group has remained active, positive and hopeful throughout the pandemic but it is understandable that with nowhere to go, people are not in the market for discounts and deals on attractions and sites with closed doors.
However, there is a glimmer of hope. The Caravan and Motorhome Club have announced the reopening of a number of their sites in early July with hope that we will see the reopening of Scottish sites later in the month.
A date hasn't been confirmed for when Scottish caravanners can hit the road but with 40% of the population saying they are excited for a staycation this year, it provides some hope for businesses, parks and groups such as Alistair's.
With this news, hopefully there will be a surge in memberships for the group. The donations are crucial to this worthwhile charity and in return, members can benefit from a fantastic and supportive community.
Find out more about The Scottish Motorhomers and Caravanners www.scottishmotorhomers.com/
Join the Facebook group www.facebook.com/groups/Scottishmotorhomersandcaravanners/
Donate to the Les Hoey DreamMaker foundation leshoeymbedreammakerfoundation.org/