The Caravanning Community Is Stronger Than Ever
---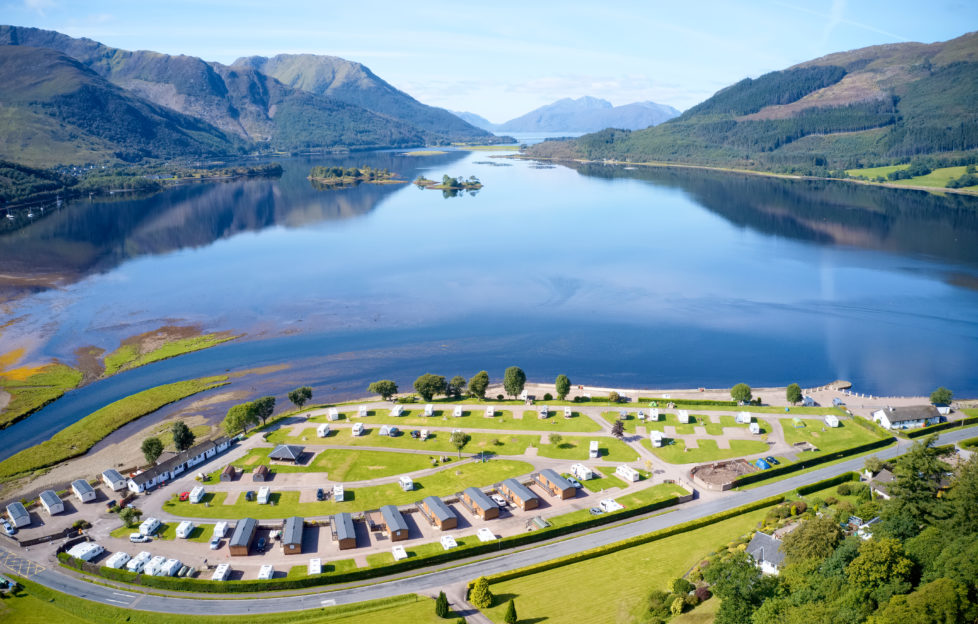 Credit: Shutterstock/REX
We may be stuck indoors but the sense of community amongst caravanners is still very much alive…
There is no doubt that the world is a strange place right now, filled with uncertainty. There is one thing, however, that we can rely upon – the strength and support of our caravanning community.
The tourist industry as a whole has been hit by coronavirus repercussions, with UK touring caravan sites alone potentially losing more than £89 million through cancelled trips. This is a challenging time for park owners, but they can be safe in the knowledge that once this over, there will be a queue of eager caravanners waiting to get back to their favourite spots.
According to new research carried out by Ripe Insurance concerning the effect lockdown has had on the mental health of caravan owners, 72% of caravanners remain optimistic about being able to take a break this season. A further 84% of respondents also stated that they remain at least somewhat confident of taking a trip in their caravan or to their static home in the next 12 months.
It is a difficult time to cling on to this optimism.
John Woosey, managing director of Ripe Insurance, said, "The optimism shown by caravan owners in these figures is truly admirable, however, it seems unlikely that UK lockdown and travel restrictions will be lifted anytime soon. What's important, therefore, is that the community rallies around during these strange and difficult times."
Owners' anxiety is being further piqued due to worries about theft and damage to caravans with 13% of those surveyed being concerned. A shocking 3% of those surveyed also said they have been a victim of theft in the past – equating to around 28,000 individual caravans*.
Now, more than ever, a sense of positivity and community is crucial. When those surveyed were asked about how the coronavirus outbreak is affecting them day-to-day, one of the greatest concerns was feeling isolated and missing out on social occasions and interactions.
Around a third said that they have already lost contact or had fewer interactions with family and friends due to the restrictions. Furthermore, 57% stated that taking a break in their caravan or static home is important for their general mental health.
These are worrying statistics and highlight the importance of keeping in touch, and looking out for others in these difficult times. We are lucky that we live in a world that is virtually more connected than ever and now is the perfect time to reach out to friends and family in our wonderful community.
That lovely couple you met in that park in Aviemore last year – why not give them a call on Skype? Your friends that you go a trip with every year – set up a pub quiz on Zoom! Every phone call, email, text and letter are a cherished lifeline to anyone feeling the weight of isolation.
Of course, none of us can definitively say when we will be able to start planning trips with certainty but even loose plans and schedules provide some hope for caravanners and park owners alike.
Encouragingly, figures from the survey pointed to the strength of the caravanning community, with 45% of respondents saying they are actively supporting site owners during this difficult time. This includes booking pitches for next year and sharing messages via social media. These small actions and plans not only give holiday-makers something to look forward to but they provide a vital income for struggling business owners.
John Woosey said, "Supporting site owners where you can, ensuring regular digital contact with family and friends and even arranging "trips" to your caravan at the end of the garden where possible can help to boost morale and raise the spirits. We'll get through this period – and we're hopeful that the caravan industry will be able to thrive again when we do."
We can't say when things might get back to a semblance of normality, but with uncertainty comes hope. Whether next month or next year, we can all dream and plan our ultimate trip, the dates just might have to be a bit vague! We can all look forward to the places we will go and the people we will meet. Perhaps most importantly, we can all take great pride in our community's ability to support one another and stay positive in the face of adversity.
Ripe Insurance is currently offering a discount of up to 50% to new caravan insurance policyholders.
Visit the website (CLICK HERE) for more information >>