The Caledonian Canal
---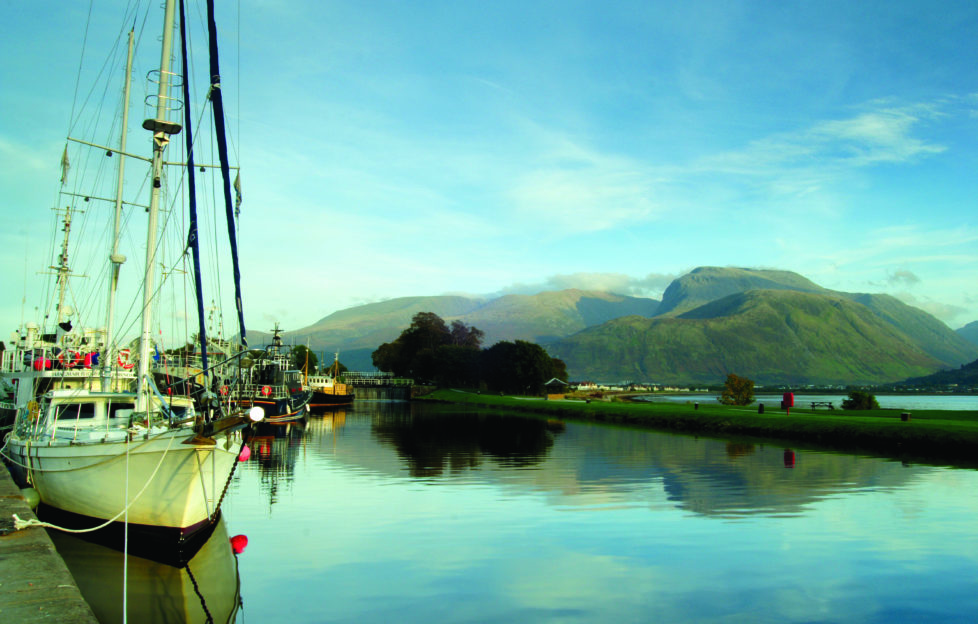 Ben Nevis and the Caledonian Canal from Corpach, Lochaber
The Caledonian Canal runs for 60-miles, between Inverness and Corpach on the outskirts of Fort William, through some of the finest scenery in the Highlands…
This beautiful waterway cuts its course through the Great Glen and includes Loch Ness, Loch Oich and Loch Lochy – which account for 38 miles of its journey – and settlements such as Banavie, Drumnadrochit and Fort Augustus.
The building of the Caledonian Canal began in the early 1800s to provide safe passage for ships travelling between the North Sea and the Atlantic coast, negating the need for the arduous journey through the Pentland Firth and around Cape Wrath.
It was designed by Thomas Telford (who oversaw progress at Gairlochy from the Lock-keeper's Cottage) following survey work by James Watt. It opened in 1822 with further construction work taking place between 1843-47.
The canal's greatest feat of engineering is Neptune's Staircase at Banavie. Comprising eight locks, the staircase was named after the Roman god of the sea by the men who built the locks between 1803-22. Its 457-metre length (making it one of the longest set of locks in Britain) was built to allow boats to rise or fall 19.5 metres – today it takes about 1.5 hours to pass through Neptune's Staircase.
Fact File:
The highest point of the Caledonian Canal is Laggan Locks, where it rises to 32m above sea level.
The curiously named Battle of the Shirts was contested in 1544 at Loch Lochy between the combined forces of Clan Fraser/Clan Grant and Clan Cameron/Clan Donald.
The distinctive cast-iron Moy Bridge was constructed in North Wales before being assembled on the canal in 1821. It is the only original bridge along the canal.
When opened, twelve men were employed to open and close the locks of Neptune's Staircase but since the 1960s, when it was mechanised, this has been reduced to only two.
Corpach has the somewhat melancholy Gaelic translation of Corpse Place as it was where funeral processions between Fort William and Annat used to rest.