Get Personal With Nature At Blair Drummond
---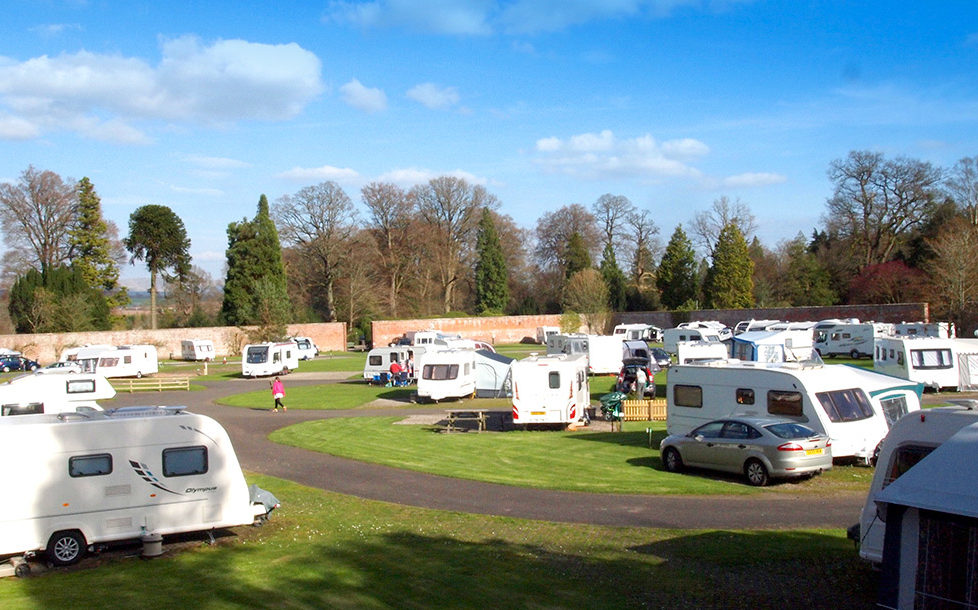 Blair Drummond Caravan Park
With a safari park next door and an abundance of wildlife on site, Blair Drummond Caravan Park ticks every box
The first thing that strikes you as you enter the confines of the Blair Drummond Caravan Park is its sense of remoteness. That's quite strange as you're only a couple of hundred metres from the A84, one of Scotland's busiest roads. The park's slightly elevated position, and the fact that the majority of pitches are surrounded by a huge wall or by huge trees, ensures a sheltered spot away from traffic noise and the worst of the weather.
The main pitches are contained in what was the former walled garden of Blair Drummond House, dating from the 1800s and this is adjacent to the forestry that contains some of the Drummond Estate's original trees, some of which date back to the 19th century.
Facilities
The 3.4 hectare (8.5 acre) park has 91 pitches, 26 of which are seasonal, three tent pitches with electricity access and six tent pitches without. The park is also branching into the glamping scene, albeit in a small way, with two Shepherd's Huts in their own space. The pitches have TV satellite connections, if you want to keep up with your favourite programmes, and free Wi-Fi if the need arises.
The situation is perfect, the facilities are excellent and if you have a four-legged friend with you, the surrounding woods offer the perfect walkies, and with an abundance of red squirrels – the park is part of a red squirrel conservation programme – deer, badgers, owls, buzzards, otters and hedgehogs, wildlife could be with you at every step. Kingfishers can often be spotted down by the nearby River Teith. Maps with longer walks area available on site.
Attractions
On the subject of wildlife, the park is affiliated to the adjacent safari park, and residents can purchase tickets that are redeemable the length of their stay.
"Such is our location only few minutes' drive from the motorway, we get a lot of trade from folk needing a stop-off on the way north," says the park's Scott Watson. "In fact we've had many visitors who have cut short a trip short to come back and stay here."
It's an ideal spot for more than one reason. Stirling and its many retail establishments, is only a 10-minute drive away, and slightly further afield is the National Trust for Scotland visitor centre at Bannockburn.
But then you might just want to chill out in your very own and very spacious pitch, or take a walk through the woods to the Smiddy Farm shop for a coffee. One thing that's guaranteed is a friendly welcome – the staff seem to be on first name terms with most of their clients – and a very comfortable stay.